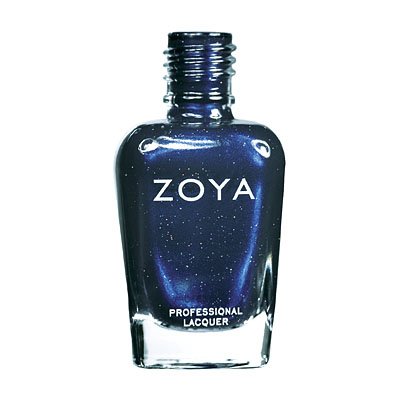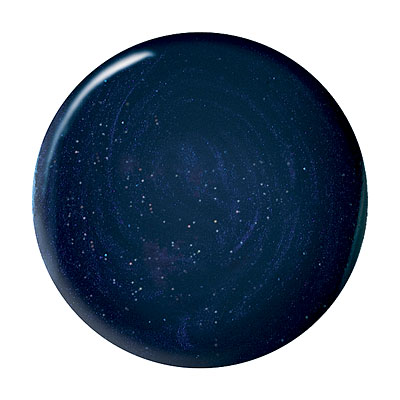 Description
Indigo by Zoya can be best described as a dark indigo blue shimmer with a pinch of holographic microglitter. A dramatic polish that resembles the night sky.
Nail Polish
Color Family:
Blue
Finish:
Metallic
Coverage:
2 - Coat Coverage
Tone:
Cool
Instructions
For Best Results
Step 1: Clean the nail plate with Remove Plus ( Remove ) nail polish remover and nail plate cleaner
Step 2: Choose and apply the right base coat: Zoya Anchor for regular healthy nails or Zoya GetEven for nails with ridges
Step 3: Apply 2 coats of your favorite Zoya Nail Polish Color
Step 4: Apply a coat of Zoya Armor Top Coat
Step 5: Drop one drop of Zoya Fast Drops to the base of your nail bed
Following these 5 steps guarantees up to 14 days of wear on natural nails.
Shade Spotlight
Shade Spotlight Join our community - Tag your photos #EverydayZoya for a chance to be featured here!
View the Gallery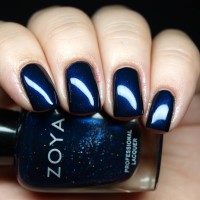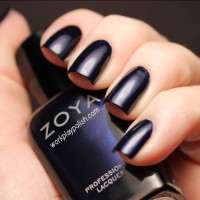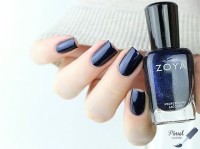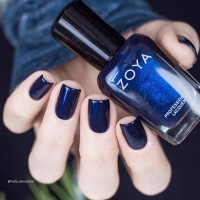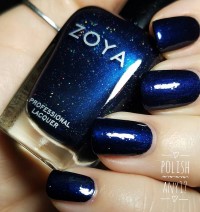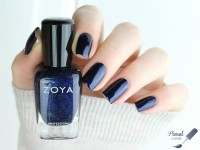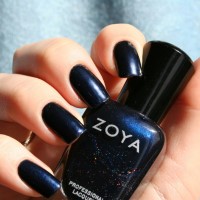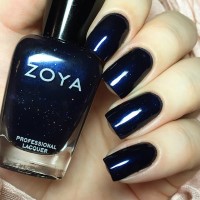 Ratings & Reviews
11

Review

s

Please sign in to write a Review




Mel
-Florida
Consumer Review

-Dark side of blue
2018-05-14
If you like deep inky blue this color is for you. Fully opaque in 2 coats and wore very well with no chipping for 2 days. I do use a clear top coat. Only con is you can not see the micro glitter well. Still, I love this color it is beautiful.
maddy
-seattle
Consumer Review

-Just get ibiza
2017-11-26
I wish i had just gotten ibiza, which is the same color but without the 2-3 glitter flecks in there. I was in love with the idea of a "night sky" mani, but the VERY few glitters in here get covered by the pigment of the polish and end up looking like little crusty pieces of somethin` in here. I love zoya and this is another consistent formula, wear time, and pigmented polish but do youself a favor and just get ibiza and put a sparkle top coat on there.
superduperj
Location-Utah
Consumer Review

Zoya Nail Polish | IndigoVery dark
2012-12-18
I love this polish but it is definitely darker than expected. It looks black indoors but transforms in sunlight. The blue coloring and sparse holo glitter come out in the sunlight. Staining isn`t too bad. Song is the worst for staining that I own.
JustLittleAsh
Location-Clovis, CA
Consumer Review

Zoya Nail Polish | IndigoIndigo is nice, not enough sparkle.
2012-04-03
I really like the dark blue color of indigo. I was expecting more of a sparkle to it though.I would also rate it a 3, not a 4 on the opaque scale.
faeriesdragon
Location-Altoona, WI
Consumer Review

Zoya Nail Polish | Indigo Ibiza is better
2011-10-12
Pretty blue, reminds me of starry skies. Has micro-glitter, that is very faint True to color with 2 coats. If you`re trying to choose a blue though, I think Ibiza is much prettier than Indigo. Not sure about Indigo, but Ibiza has a tendency to stain nails due to the high pigmentation. Something to keep in mind.
Lindsay
Location-ct
Consumer Review

Zoya Nail Polish | IndigoInteresting
2011-02-25
If you are considering buying this color, look at swatch color- not the picture of the bottle- to get a more accurate idea of what color this comes out to be. It`s awesome but it`s definitely darker than pictured. The best way to describe this color is blue/black with shimmer. I don`t agree with the other posts about it not having shimmer because it does, it just doesn`t show as well because the color is really dark. I catch different hues in light all the time! If you`re looking for a blue/black color, this is the shade for you.
fredswife2
Location-St. Louis, MO
Consumer Review

Zoya Nail Polish | IndigoLike it, but...
2011-01-07
...it wasn`t what I`d hoped for. The glitter gives a completely different effect inside the bottle than it does on the nail. It`s very subtle when painted on, and I was looking for some bold holo glitter. The color itself is pretty though.

Zoya Nail Polish | IndigoIt goes with everything
2010-11-02
It`s nice, but you really can`t see the shimmers.
exheight
Location-Cleveland, ohio
Consumer Review

Zoya Nail Polish | Indigosooo pretty!
2010-09-10
this is truely indigo! I love this color. inside it`s a blue-black with subtle shimmer. in bright light or daylight, it has much more depth in the color. very pretty. I haven`t been interested in wearing blue, feels too `crazy` for me, but this is elegant and it`s changed my mind.
Springfever
Location-Ann Arbor, MI
Consumer Review

Zoya Nail Polish | IndigoIndigo
2010-06-04
This color is dark, super dark. You can`t even really tell it is blue until it is really up close and the sparkle in it minimal. I like it though, because I find it to be kinda mysterious.
Styrch
Location-Springboro, OH
Consumer Review

Zoya Nail Polish | IndigoSkip if you have Ibiza
2010-05-14
Although Indigo has shimmer, it doesn't appear on the nail except if you're looking really carefully. Honestly, I'd pass and go for her sister Ibiza.
Add a Review
Review Guidelines
We want to publish your review.

Please avoid inappropriate language, personal contact information, other brands, and external links.